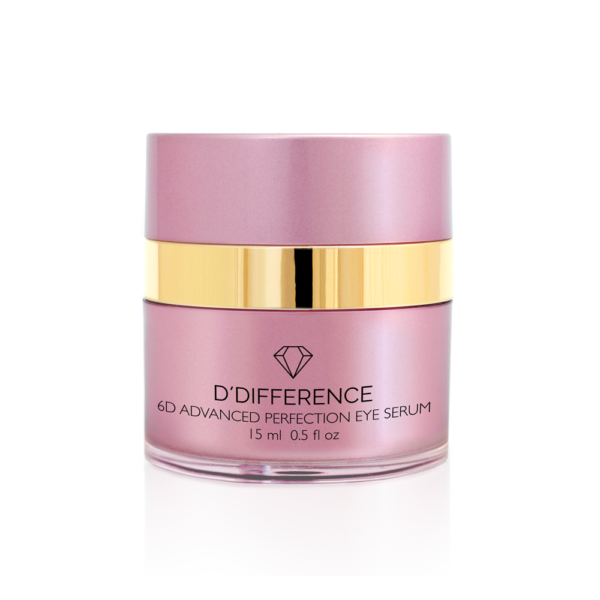 6D Advanced Perfection Eye Serum
59.00 €
Sometimes due to a decrease in the elasticity of the skin, the good qualities of the products remain in the shadows. We may have a good eye care product at home but our eyes are still puffy in the morning and the skin feels dull.
The texture-changing eye serum smooths, moisturizes, refreshes, cools, fills in lines and wrinkles and eventually tightens even the smallest wrinkles. The cooling and refreshing effect is immediately felt due to Aloe vera, cucumber juice and the high content of an innovative polymers. Niacinamide moisturizes the surface of the skin and soothes it, and low molecular weight of hyaluronic acid provides deep hydration to the skin. There are four different peptides in the serum – some help reduce the puffines that tends to plague us when the elasticity of the skin decreases, others smooth out the lines and increase the tone of the skin, and stimulate the work of the cells. Red algae extract from the Baltic Sea gives an extra touch of smoothness.  Plant based stem cells are one of the best natural keepers of skin elasticity and there are plenty of them in the eye serum. Suitable for everyone with a demanding skin and for those want to experience innovative textures.
Natural cosmetics have reached a new level! Such smoothing effect was previously achievable only thanks to silicones. Silicones have been widely used for a long time, they have great smoothing effect yet with prolonged use, the skin begins to lose moisture and the skin's metabolism does not follow its natural cycle. Now the same results of silicones can be achieved with a polymers that have a much milder effect on the natural defense barrier of the skin.
We believe that with D'DIFFERENCE eye serum, it is possible to revitalize skin, give it back a smooth and soft skin surface, which is complemented by the cooling sensation and a fresh feeling.
We dare to say it because of a specially crafted product composition and the feedback from the extensive test group.
This product is DERMATOLOGICALLY TESTED. It is formulated without fragrance and colorants. VEGAN.
DIRECTIONS
Eye serum is suitable for use both in the morning and evening, either separately or under an eye cream. The primer-like texture of the cream allows multiple application methods. Rub the serum between your fingers and then dab on the skin. Alternatively, it can be applied to the skin with smoothing and massaging movements taken directly from the jar.
INGREDIENTS
INCI: Aqua, Sodium Acrylates Crosspolymer-2, Aloe Barbadensis Leaf Juice*, Niacinamide, Glycerin, Cucumis Sativus (Cucumber) Juice, Hydrolyzed Sodium Hyaluronate** Bacillus/Rice Bran Extract/Soyben Extract Ferment Filtrate, Algae (Furcellaria Lumbricalis) Extract, Palmitoyl Tripeptide-1, Palmitoyl Tetrapeptide-7, Lactic Acid/Glycolic Acid Copolymer, Copper Heptapeptide-14 Pantothenate, Hepapeptide-15 Palmitate, Caesalpinia Spinosa Fruit Extract, Kappaphycus Alvarezii Extract, Potassium Sorbate, Sodium Benzoate, Phenoxyethanol, Decylene Glycol, Caprylyl Glycol, Steareth-20, N-Hydroxysuccinimide, Chrysin, Polyvinyl Alcohol, Dextran, Glyceryl Caprylate, 1,2-Hexanediol, Phenylpropanol
*Ecocert certified
**COSMOS/Ecocert certified
ADDITIONAL INFO